Whew! We have arrived! The drive into St. Charles was beautiful and after a prayer sendoff at Faith, we were on our way. Per tradition, we met about halfway for a group lunch. This trip we decided to grab some sandwiches and ended up in a great park with a playground, a perfectly-sized picnic area out of the sun, and best of all, clean bathrooms! It was the perfect place to stretch our legs and share a meal. We hit the road again and after a few mini-adventures along the way, we finally made it to St. Mark's. Pastor Tim, who some may remember from his time at Faith, was there to greet us with arms wide open. After settling into our temporary homes and a quick tour of the church, we were served a delicious dinner provided by one of their community groups.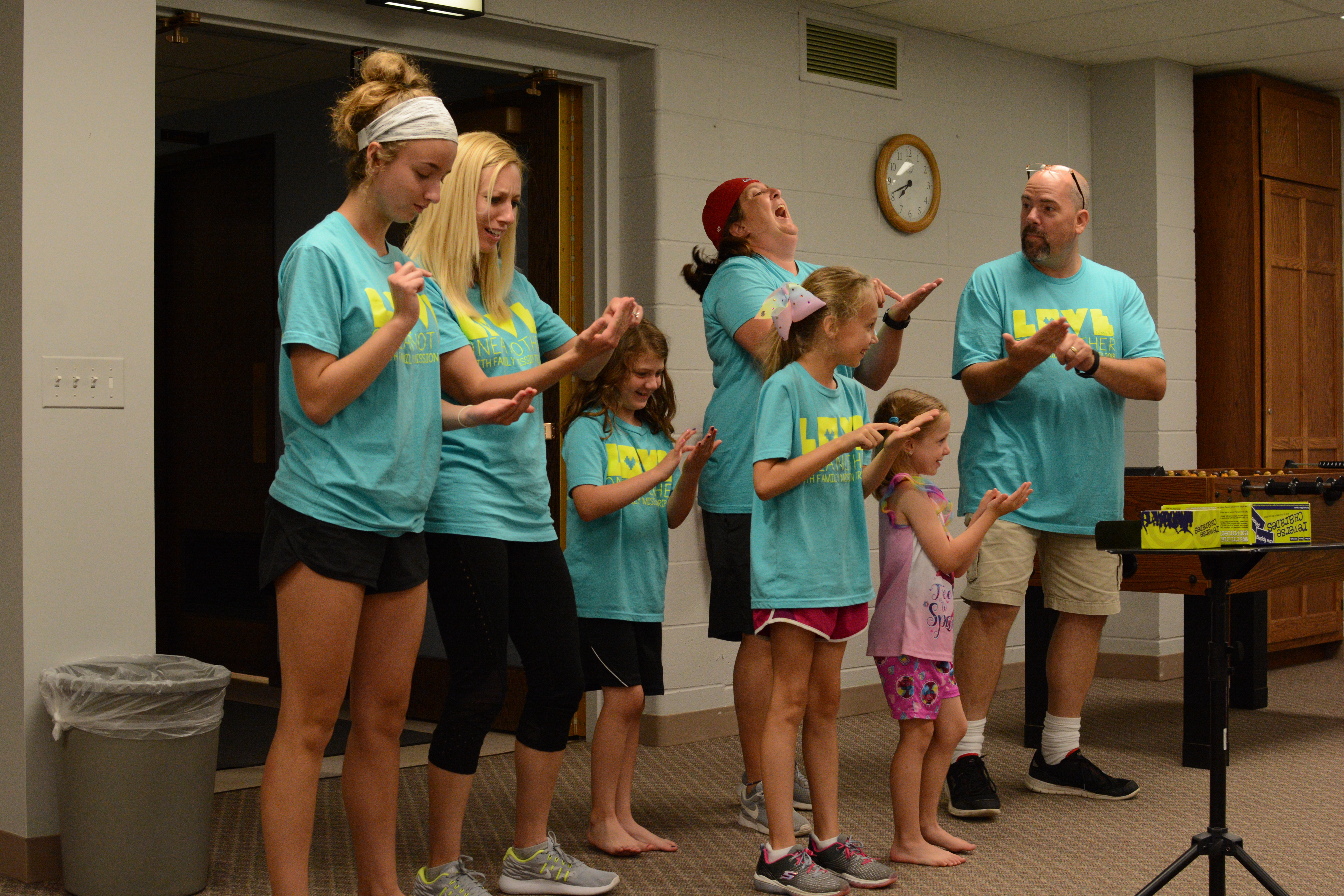 After dinner we were able to spend some time unwinding and in fellowship with each other, Pastor Tim, and a few great folks from St Mark's. Before bed, we gathered together for a game of Reverse Charades led by our own Julie Beck. The kids had a blast acting like dogs, having invisible pillow fights, and even acting out a little imaginary picnic. It was a great time followed by a lovely devotion led by our own Donna Auer that reminded us about why we're here and what we get to look forward to this week.
Today we wore our bright blue and neon yellow t-shirts that share this year's Bible verse, 1 John 4:7. We also shared our mission twice. It's only day one and we have already found friends among strangers at both Subway and Walmart. God is always working through us even when we aren't specifically out serving in a typical fashion. I can't wait to see what He's got planned for us tomorrow!
In the morning, we head out to Feed My Starving Children to put together food packs. We will also be preparing a meal for Lazarus House while some of us are spending some time serving the lovely people of St Mark's and helping them prepare for their community Block Party! We welcome prayers for good weather and a great Block Party. We are so grateful to have the opportunity to help St Mark's serve their community in a fun, love-filled, and safe way.
Till Tomorrow!