High School Mission Trip
13 High School Students and 4 Adult leaders left St. Louis filled with excitement to serve the people of Lumberton, NC who were impacted by Hurricane Florence in 2018. All loaded up, we were ready to serve!
Our group was blessed to have a church provide us with room to sleep overnight in Sevierville, TN for the evening before finishing our journey to North Carolina. Even after only one day of traveling, our vehicles began to take on the not-so wonderful smell of teenagers.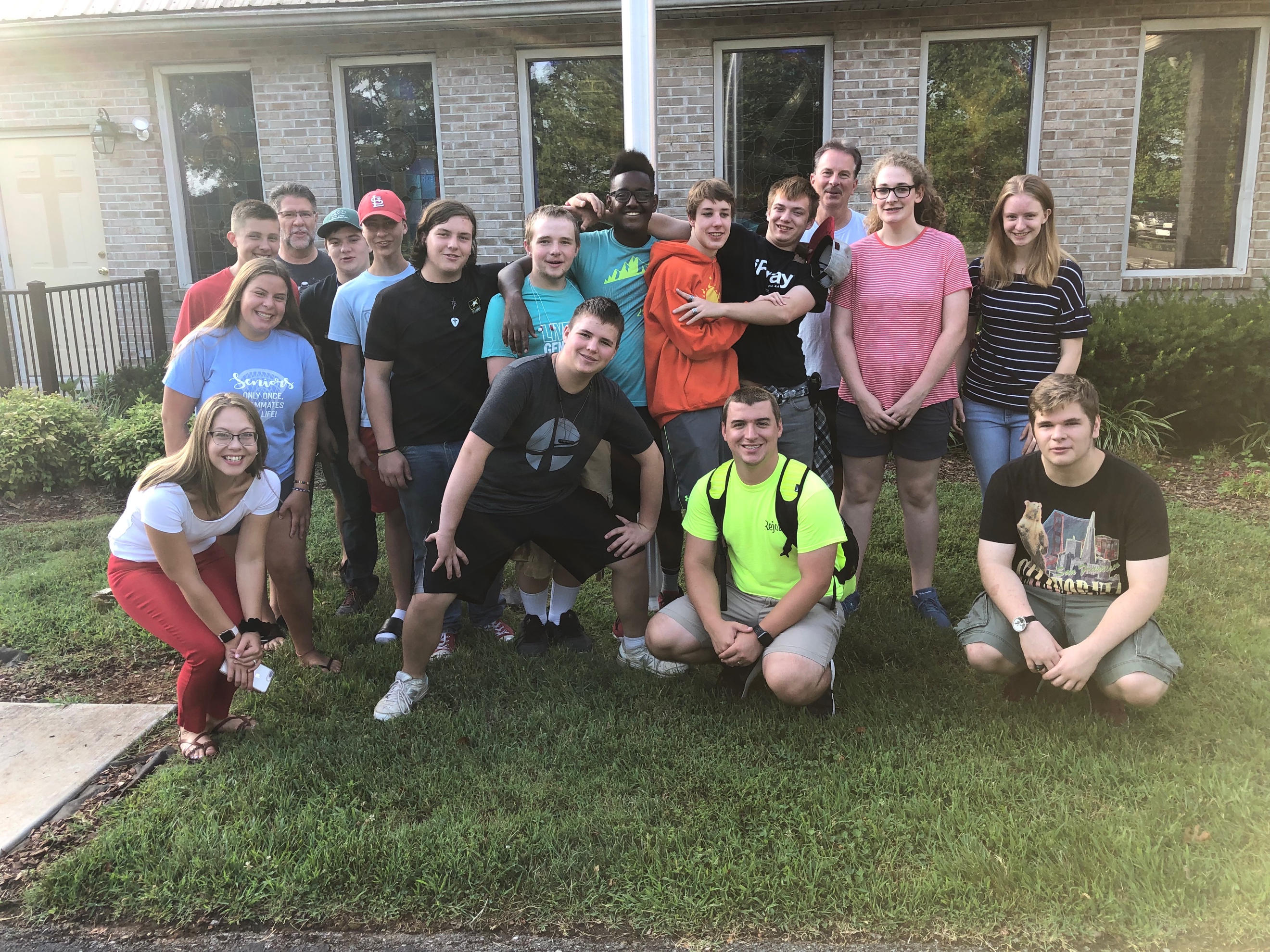 Arriving in North Carolina, we were so excited to hear how exactly we would be used to serve the community this week. We were introduced to our staff member for the week, named Michael, that would be working on our worksite alongside us. He shared with us how much work there would be for us to do on our site.
Michael was not wrong. As we arrived at our work site for the week, we all greeted the resident, named Wanda, and surveyed the work that needed to be done. The house was unlivable, as the roof was in shambles, the floor of the house was so soft that it threatened to cave at any moment, the exterior of the home was covered in grime and debris, and both sets of stairs into the house were barely holding together. We quickly understood that we were exactly where God wanted us to be.
Right away we got to work clearing the house of anything that was rotting or soaked. The steps were torn out, ready to be replaced, and we began to scrub the house clean with bleach and water. Though it was tough work, especially with a heat index of 114 degrees the very first day of work! Despite the heat and tough work, every one of our 17 participants worked hard and put in an incredible effort to bring this home back to livable condition.
Our group had an instant connection with the resident Wanda, who lived in the home with her two daughters and two grandchildren. Throughout the week Wanda shared with us how much of a blessing we were to her and her family.
The theme of this week's trip was Run The Race based on Hebrews 12:1-2. At each of our evening chapel times, we worshipped and heard a message about the baggage that each of us carries and experiences in life that slows us down. We heard about baggage from relationships, identity, life, and others.
By the middle of day 2, we could already see our work paying off as the house began to look and feel much more like a home. It is amazing how much of a difference just the first coat of paint can make!
After each of our evening chapel sessions, our group gathered together in a room back on our housing site to read through our day's devotion and discussion questions. This is where the students really showed their growth on this trip. It was so incredible to see the vulnerability and honesty of each student as they shared the truly heavy baggage that they struggle with in life.
By the end of the week, Wanda had once again shared how much of a blessing our group was to her. Though we shared with her that she was as much as a blessing to us as we were to her. Throughout the week we were able to see her faith clearly. No matter how dark life got or how much water threatened her family or her home, she remained faithful to God throughout it all.
The Holy Spirit moved through each of us on this trip and opened our hearts to one another as we shared each other's burdens and baggage. We left from Faith as friends but returned as a family.