Guatemala Day 4
This is the day that the Lord has made, let us rejoice and be glad in it. -Psalm 118:24 The children were very excited to see us and spend another day together. As a team, we helped the children create sock puppet animals to tell the story of Noah's Ark. Carol read the story in Spanish and the rest of the team acted out the story with the animal puppets. The story concluded with an animal parade with the kids' puppets as the animals followed Noah out of the ark and singing "Rise and Shine and Give God the Glory"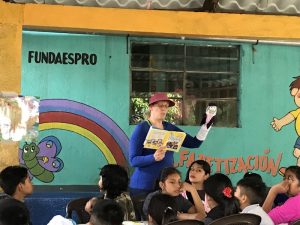 There were snakes, tigers, dogs, giraffes, turtles, just to name a few. The kid's imaginations ran WILD! It was neat to see how excited they were to make the puppets.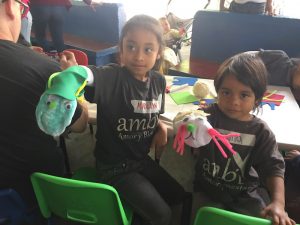 Freetime was similar to yesterday and included chalk art, parachute, soccer games, hanging on Dave, twister, and jumping rope.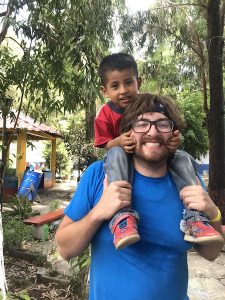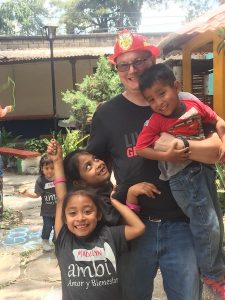 Another activity the children did was making traditional Spanish candy. We were then presented a basket of this candy as a thank-you from AMBI.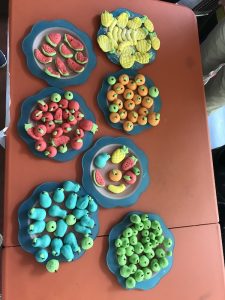 Saying good-bye was bittersweet because it will be a while until we see them again. Our relationship grew!
Reflection from Julie:
Today God blessed me today with the opportunity to meet and visit with my prayer partner's (Yostin) extended family. I met his Madre (mother), Tia (aunt), Hermana (sister), Sobrino (nephew) and Sobrina (niece). Yostin is blessed with a very supportive family. They love God and they love each other.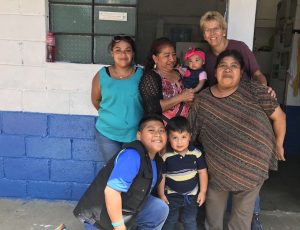 God has shown His hand in so many ways in the past four days. He has made it obvious that He has been present starting with the planning process and throughout each day of our visit. I could not have envisioned the joy I have felt the past two days. I pray that God continues to bless and protect Yostin and his family. Reflection from Dave: The mission trip has so far reflected the ups and downs of life in Guatemala and today was no different. I was able to see the power of our Lord, the sweetness and kindness of the children and also the area that some of them live. One of the boys, Johny saw that I did not have one of the bracelets the group handed out and he took a rubber band off his hand and placed it on my wrist. I was able to see God working on Fredy and the enormous change in just one day. He was smiling, laughing, giggling and even said a few words. I saw Fredy, Johny, and their brother, Leonardo leave the CarePoint by themselves. No one was there to pick them up, to take them home, or make them feel safe. My heart sank. I saw the difference we made in two days, the difference Faith and Zion are continuing to make and the great need for our further support and prayers.