We arrived Saturday at about 10:30 pm, after a long and uneventful drive.
On Sunday, we split into two groups. The first went to Hill City with some of the Lakota men to welcome Travis (Lakota) to the finish line of a Marathon from Mt. Rushmore to Hill City. He didn't do as well as he had hoped but was very happy to see the group cheering him on at his first marathon.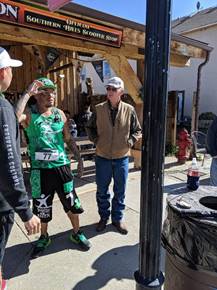 The other group had the honor of worshiping at the church we helped build nine years ago, which now has a sponsoring church that helps with more outreach in the community. It's led by a Native American pastor named Patrick. Patrick and his wife teach during the week at the local Lakota elementary school.
That evening, we had dinner with the Lakota men and continued long discussions about our faith, their faith, and what has been happening on the reservation.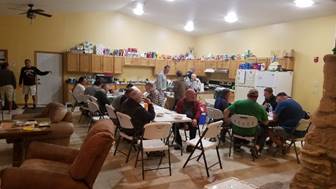 Today, Monday, we started our projects as usual and discovered new projects that God has identified. We are trying to get the outside projects completed by Wednesday, as Wednesday night the cold weather arrives with snow (possibly one foot by end of the week).
We'll have Bible Study/Dinner with a local Lakota men's group on Wednesday, and our community event will be with another new church on Thursday evening.
The projects included:
Peggy White Dress – Rebuild her driveway (300ft long) as it was washed out during recent rainstorms. There is a mission team coming in a couple of weeks that will provide her with a new mobile home and tear down the old one. Peggy is the grandmother of several kids and needs two homes to house them. The other home is the Solar Home we helped build about three years ago. Here is a picture of it before.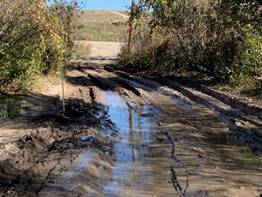 Garage Doors – We built/assembled three garage doors and hung two of them on buildings at Hands of Faith to get them ready for the cold weather.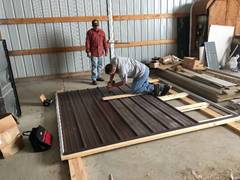 New Roof – We began and finished about half of replacing the roof on the HFM house we are sleeping in.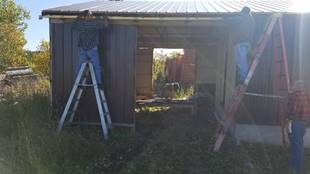 Fixed Electrical Issues – It turns out there was some strange wiring in the HFM Warrior Center's main areas that we are working to correct. We also repaired the heating system (outside wood burner) that had caught fire and burned out several of the electrical controls. This is a priority as the warrior center needs heat later this week.

Wes Yellow Horse New Foundation – All we could do today was assess the work to be done, so we can be prepared tomorrow. The house (not a mobile home) is in good shape, but the foundation is collapsing. We will pour concrete and hopefully get the house on the new foundation tomorrow.

Candy Redcloud Bathroom rehab – Today we tore out the bathroom walls, fixtures, and floor and delivered the new bathroom fixtures. We likely will not get back to her home until Wednesday.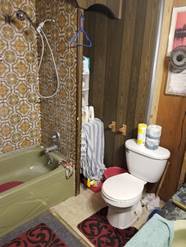 Heidi Furnace not working – Visited and tried to repair it, but the unit is over 40 years old, and some parts have failed. We're going to see if we can scrounge a part tomorrow.
Thank you for all your prayers as we strive to connect people to Jesus in Pine Ridge.