Well, we are on the road heading back. Looking forward to being home but going to miss the relationships.
Even with the cold weather we still completed all the projects. More projects completed include:
Candy Red Cloud – bathroom – completed
Warrior Center Ceiling – completed
Verdel Home – new project – several repairs to make it livable – completed – Verdel is in the rehabilitation program but his girlfriend and daughter were being persecuted by her family and she was being kicked out of her grandmother's home. Verdel was looking at leaving the program so we helped him get his girlfriend into his tribal home.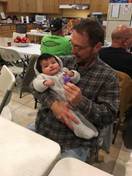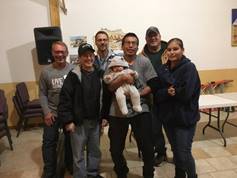 Warrior Center Electrical – Completed – Here the team is supervising Bob putting in a generator bypass circuit. Bob had to spend a lot of time in the cold weather.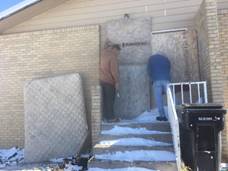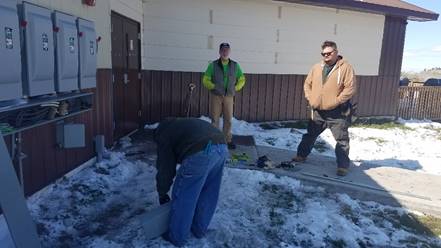 Welding Garage – new door – completed
Travis made us prison tacos for lunch yesterday. Travis said that they would make this in prison as the cafeteria food was so bad. Basically, it is made from chips(mix of different kinds that are available), roman noodles, cheese, and meat. We had ground beef but in prison, they use summer sausage. The mixture is put into the chip bags, crunched up, and then you add hot water. This is then put on a burrito. They can't cook in prison.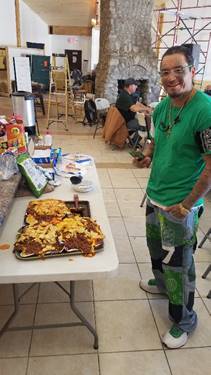 Travis is in some videos that are very good to see. They tell his testimony and give you a very good look at what life on the reservation is really like. HIGHLY recommend seeing these videos:
Dakota: The Story of the Lakota
Broken Hearts Healed by Travis Lone Hill
There is another video on Amazon Prime that provides a very good history of the Pine Ridge Reservation called the 7th Generation
On the last day we have awards:
o Clyde – Tortoise – he was a steady worker and completed his projects with detailed perfection
o Erich – Boot – he jumped in where needed and found solutions
o Bob – Buffalo – many times he was working by himself and attacked problems that were difficult to solve.
o Scott – Butterfly – he was always fluttering around giving advice to everyone, but we don't have any pictures of him doing actual work.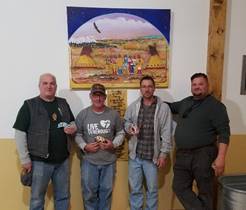 We are bringing back a bunch of wood crosses that the Lakota men made in the workshop. We will have them on display at the October 27 services.
It was a great trip. We engaged with many Lakota men and families and we are praying we left them with the love of Jesus and a new hope to be a light in their community.